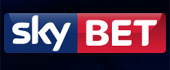 Every man and his dog in the UK has Sky Sports if he's a sports fan because it's the main thing to have if you want to watch Premier League football, and it has been for over 20 years now. With the extortionate prices you pay for the service to fulfill your sporting appetite, you're then tempted further to part with your hard earned cash with the endless adverts promoting Sky Bet that appear during commercial breaks. You're bound to have heard of Sky Bet if you have any passing interest in sport, it's a household name.
Sign Up
Their sign up offer is a 'quadruple your money' kind of thing though, so it's a good start.
On registration, if you bet a minimum of £5 on any sporting event at odds of evens (2.0) or above, you'll be given a £20 free bet – credited immediately after you place your first best. If you're lucky (or good) it's a fine way to make a quick couple of quid to start.
Sign up is generally easy and it doesn't take you long to get going, but the good thing about Sky Bet used to be how much they offered you to stay. It's not really the case any longer.
Sports and Promotions
Sky are famed for their ridiculous prices. And even Sky Bet have started being party-poopers by changing up the one regular offer that used to personally guarantee my own personal custom every weekend. Their previous offer of £5 free every week as part of the 'Sky Bet Club' was great for the modern fan who loves chucking an accumulator on the weekend's matches.
Now it used to be the case that all that was required as a buy in to the scheme was £25 (after it used to be £10) on an accumulator of 5/1 or greater odds, and betting £5 a week thereafter would secure you a £5 free bet every week. Forget that. You now have to spend £25 every week – and that'll certainly fish out the fair-weathers from the committed (or down right rich/addicted). If you miss a week, to buy back in to the scheme you'll have to spend £40.
It certainly kept me coming back, but things change.
It is though, a great way of repeat. More often than not Sky Bet's match odds are not market leading – but gimmicks like this more than make up for it. FThey offer many In-Play betting options.
Throw in the ability to cash out now too and Sky Bet still has it's perks. They even have their own 'tracker' – which is very helpful if you're looking to get out of a bet you've made.
Ability to bet on any market you're able to think of is possible under the Sky Bet brand. Every popular sport in the UK has detailed sub-markets, and they even take request-a-bet specials on social networks like Twitter. Sky Bet also covers a variety of novelty markets for TV show and even Professional Wrestling betting.
Variety
But that's only scratching the surface. One registration to the SkyBet site enables you access to the multitude of different markets under the Sky umbrella. Access is also given with the registration to three other sites – Sky Vegas, Sky Poker and Sky Bingo. With one registration, your money is deposited into one central account which can be used across all four divisions.
Sky Vegas, Poker and Bingo all speak for themselves in what they offer, and each site is extremely simple to use and find what you want to play. While they don't particularly specialise in any of the three, Sky Vegas offers over 250 games on the site with the mobile phone application of equivalent quality. The gaming experience is second to none on both Sky Poker and Sky Bingo and matches the standard that Sky Bet in particular sets.
Support
Their 24 hour help and support service puts you in touch via an instant messenger, email or telephone, and any problems I have ever had have been dealt with swiftly and easily. Instant messaging in particular is painless and prompt.
Added Extras
One final little benefit for the football fans gives you entry into a weekly 'Super 6' competition, where you get a completely free guess every Saturday afternoon of picking the correct scores in six of the day's football matches. £5,000 is guaranteed every week to somebody, but the jackpot of £250,000 is on offer if you guess all six scores correctly. They say you never get something for nothing, and people have done it before!
Mobile App
The site layout is excellent, and the mobile app is of equal quality – everything is evenly spread and eligible – leading to a top all round experience.
Overall
Sky Bet have all bases covered, especially for the football fan of today. Their value is by no means the best but with cheeky weekly promotions to entice you, you'd probably have found before (like I did) that you won't need anyone else during the football campaign.
The trouble is, there's better bookies about now. But it's definitely handy to have a Sky Bet account.