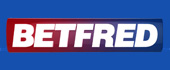 Betfred are the kings of the fixed coupon. After drafting themselves into the online market they've adjusted very well from being your bookie around the corner to simultaneously being a strong online competitor. Betfred offer unique options for customers in football markets to set themselves apart whilst remaining competitive in the horse racing stakes.
Sign Up
Betfred's sign up offer matches that of Betfair, in today's climate. They offer you £30 worth of free bets when you stake your first £10 on sign up, though that thirty is offered in one large chunk – as opposed to the three batches of £10 you get at Betfair.
Your opening bet must have odds of evens or greater for you to qualify for the free stake, but you're able to get the offer whether you start up on mobile or computer.
Promotions
Before we get into the nitty-gritty of their fixed-price coupons, Betfred's new promotions for this season are worth a big mention. In the £30k season giveaway, every £5 you stake on football bets will earn you one raffle ticket. Every raffle ticket created each month will be added into a random draw, and you could be one of three winners of a cash prize.
There's also the chance to win a ticket to the Euro 2016 final, while £5,000 in prizes will also be awarded to those who finish in the top 10 come the end of the season. You're seriously going to have to spend some cash to have any chance of that, though.
Betfred though have earned their stripes from some other innovative ideas – that have on occasion left them with their pants down because of insane popularity on Twitter. Their offers of fixed odds coupons have been instrumental to them taking large amounts of money from my personal pocket because of the huge rewards they present on football markets.
Offering the now famous 'Goals Galore' coupon, Betfred compile a list of matches for every round of fixtures in the football calendar, and instead of accumulating odds like the majority of their competitors, they offer very generous fixed odds dependent on the amount of selections. This coupon was a staple of my betting diet for the best part of a year, as their 5000/1 top bill on a 15 fold accumulator was often just too tempting with the odd couple of quid. 10/1 on a five fold is ideal if you're looking for something more realistic.
They've also launched a 'Beat the Clock' bet which gives you the chance to predict which matches will see a goal in the opening half an hour of listed fixtures. These odds are fixed too, and additionally they do the option for the opening 20 minutes of fixtures if you're feeling more daring.
The 'Double Delight/Hat-Trick Heaven' ticket is a nice little extension on your standard first goal scorer markets too, where if your pick scores first and then gets a second, your starting odds are doubled, and then trebled with a third goal. Betfred is the place to go for first goal scorer markets and their huge choice of promotions will keep you hooked.
Mobile Applications
Betfred offer two iPhone apps – a main one to find markets across whatever sport you can imagine, along with one dedicated Goals Galore app. It speaks volumes for the coupon's popularity. Both are essential downloads if you sign up, and they look pretty tidy too.
Appearance
Having already talked up both the Betfred web layout and labelling their apps 'pretty tidy' (if you've ever had a night on the town in Cardiff, it'll resonate), here's a bit more detail. Below is a screen capture from the Goals Galore app we've already raved about, and for a simple guy like me I like to see simple things – this is as simple as it gets.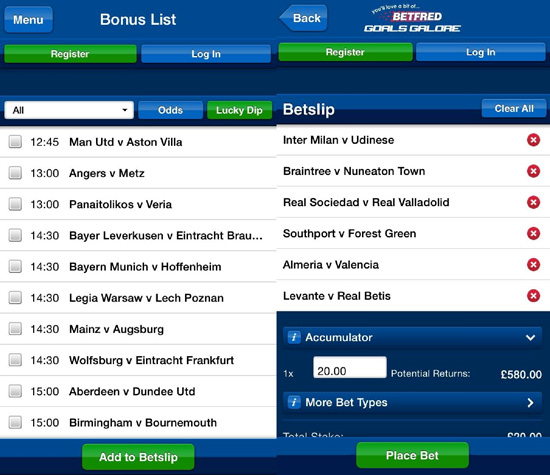 No fancy ads or stuff lurking in the background, just clear, concise and to the point. This app only has one purpose, to make it easy for you to select from one of the top coupons in the football market, and that's exactly what it does.
Support
The standard instant messaging, email and phone options are available and swift as you'd expect. You're also bound to find a bit of support from a local Betfred shop too, there's over 1300 across the UK.
Overall
If you're a football fan looking for more than just a standard win accumulator to spice things up a tad, Betfred is the place to go. While covering all of the basics well and offering good service on a bunch of platforms they love giving punters the opportunity for something different and their fixed coupon prices pay out well whilst keeping things fresh.