Both teams to score is a football betting market that has snowballed in popularity over the past couple of seasons. Promotions from established bookies such as Betfred have given a new lease of life to the market, offering massive extra incentives different from most other bet types.
The great thing about both teams to score is that your bet is never over until the final whistle. Unlike with some markets where you're down and out because your pick is 3-0 down with five minutes to go, you can always hold faith in that old cliché that 'it only takes a second to score a goal.'
What you're relying on when it comes to both teams to score is just that – you're hoping that within the 90 minutes both teams on the pitch will score at least one goal. Games have the potential to spring into life at any moment and the anticipation of waiting for a team to bag a goal is one of the most exciting feelings in the football betting market.
It's one of the more enjoyable markets as you don't have to spend time worrying about your one team in your accumulator losing 1-0 when you're hoping for a win, instead you're just cheering on both sides to find the net, regardless of the outcome of the match.
An Example of Both Teams to Score Betting
Bookmaker websites often hold their own coupon for the both teams to score market, so you can either go through each individual match and seek out the selection or save a little time on choosing the selections through the specified page.
Of course the option is always there too to bet against both teams scoring. Selecting no sometimes comes in with longer odds, especially if you are betting on a game between a strong team and far weaker outfit, but the choice is yours to make.
Sky Bet (pictured) collates the games into one handy page to make the selections and with one click of yes or no, your choices are added to the bet slip. The odds are displayed in fractional format this time, so visit our Odds Explained page for a little bit of help if you need it. With multiple choices the option is always there to place your stake on an accumulator, or one of the many other types of multiple bets – the decision is yours.
Betfred's 'Goals Galore' & Other Top Both Teams to Score Bookies
Both teams to score became extremely popular in the United Kingdom when top bookmaker Betfred introduced their 'Goals Galore' coupon, giving punters a chance to choose from a selection of matches with set odds, dependent on the amount of selections included.
For several months Betfred led the way with the coupon, offering better odds and bigger reward with the coupon than other bookies who offered just the standard accumulator. Betfred enjoyed so much success with the coupon that they even introduced a mobile phone application dedicated to that specific market, making it far easier for bettors to make their choices by just ticking their chosen matches (Goals Galore App featured below).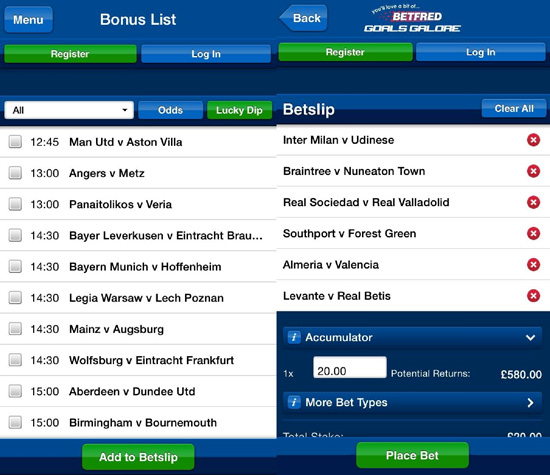 Betfred offer fixed odds on both their 'Long List' coupon and 'Bonus' coupon; the difference between both being that games more likely to feature both teams scoring are not featured on the bonus section, allowing for higher odds (it's just for Betfred to cover their own backsides) but nevertheless there is still great value to be had in the bonus list section.
The selection of three matches is fixed at 9/2 on the bonus coupon, with Betfred often offering better odds than any other bookmaker for a both teams to score treble. With every additional selection added, the odds for your bet lengthen. For example, four selections is set at 9's, seven selections at 50/1, eleven at 500/1 and fifteen at 5000/1, and all selections in between have their price too.
Of course, this is no guarantee that Betfred are always offering the best prices on the market – it's always worth shopping around, even with the bookmakers that don't offer the easy way of selecting your both teams to score bets.
Check out Bet Victor especially for generally great odds on most markets, you may be surprised to find you can substitute a little less convenience for more in your pocket. It's not always the case, but definitely worth checking out at times as the differences in returns can be quite substantial.