Scorecast betting is essentially two bets rolled into one – picking a goal scorer and a correct final score to win a more than likely long odds betting market.
Most bookmakers will offer scorecast markets on domestic and high profile European fixtures and combine the odds of the two individual bets to make up an overall value.
Scorecasts typically can be found in the betting sections of a specific match, but bookmakers will often feature a promotion on their homepage or through app notifications where odds have been lengthened to tempt bettors into putting their money down. The bets are good fun once in a while but can become quite an expensive habit if they are to be placed weekly – the rewards are handsome but the chances are pretty slim – hence the longer odds.
An Example of Scorecast Betting
Scorecasts are easy to make up, as bookmakers will often fill out a grid for you to make up your own bet (like Sky Bet have below), just leaving the bettor with the job of picking what player and score line they think will happen.
The bet is typically a favourite in sports markets as perfectly attainable results rolled into one often produce a large price. Scorecasts are tempting because of the long odds, but the reason for the lengthened odds is that there are so many variables in matches that it's easy money for the bookmakers. However, if you're ever lucky enough to win one, the rewards are huge.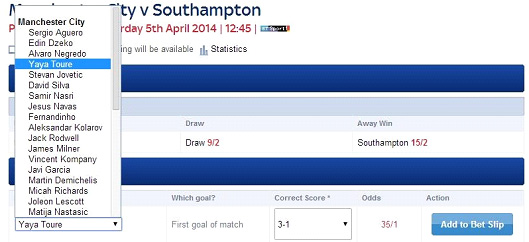 The great thing about scorecast betting is that you're able to choose anyone on the pitch or bench to score prior to kick off and any score you like, but some bookmakers offer some slightly easier and less specific versions of the market to give bettors more of a chance.
Wincast Bets
You will often find the scorecast section in or around the goal scorers section of an individual match on most betting websites, and alongside it you'll find the wincast option – that depends on if the bookmaker runs with the market, and not all of them do.
Wincast markets serve a similar idea to scorecast, however the restrictions are far more generous and as a result, the odds are not. You are merely tasked with picking a single player to score within the ninety minute period of a match and choosing the team that you think will come out on top.
Both types of bet are generally very popular, however as explained, with scorecasts especially, they can be very hard to win.
As a footnote for scorecast bets, if an own goal is the first goal within a match it generally doesn't affect the bet. The next goal in the game will then be considered the first goal.