There aren't many long shot bets in football that are much more fun than betting on a certain player to score in a match. The feeling of getting behind one player to bring you home a nice little return of money is often fruitless because of the huge number of possibilities on the pitch, but when it comes off for you picking a goal scorer is a great little earner.
That is of course, unless you're picking Lionel Messi or Cristiano Ronaldo. Both men average nigh on one goal a game for Barcelona and Real Madrid and are often odds on to score in every match they take part in – so for the most part betting on the pair is not even worth your time because there's no worthwhile return. But anyway, it's a great feeling when you pick a random centre half as a scorer at 25/1 and he powers in an early header from a corner to bag you a large sum.
The principle of picking a goal scorer is to choose at what point in the match a certain player on the pitch will score, if at all. Here's a quick example of how to do so.
An Example of Goalscorer Betting
Goalscorer betting means the same thing whichever way you look at it, but there are many different options to choose from.
While you're always betting on a player to score a goal, the difference in the odds always comes between when you think the player will score, or in some cases even how many times he will score. Paddy Power below presents you with five options to choose from, most markets coming with slightly different prices.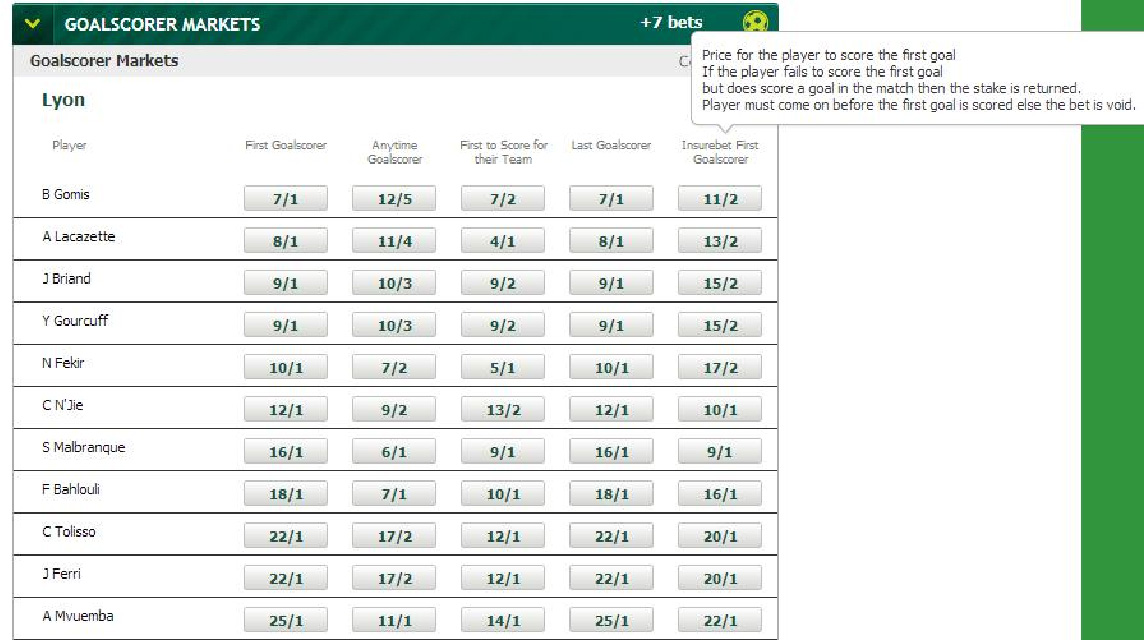 Bookmakers usually present the options in list format like above, and you'll typically find that a club's attacking players are always the first on the list with the shortest odds, since it's their job to score the goals.
The 'first goal scorer' market explains itself in terms of what you're betting on, where if anybody different to who you've chosen to score the opening goal of the match scores or there is no goal scorer in the game, the bet loses. 'Last goal scorer' typically has the same odds per player as the first goal scorer market, while both have relatively long odds per player because only one player can score the first and last goal.
Scoring anytime is a little different. The odds shorten because the player does not have to score at any certain time, but as long as a goal is scored within the 90 minute period of play the bet wins if you back it – and there is no limit to how many winners you can pick if you're betting on a goal fest.
Paddy Power offer a couple of other markets such as 'first to score for their team' and an 'Insurebet first goal scorer,' with the former meaning that the opposing side's players are eliminated from the bet and the latter giving money back if your bet doesn't win, but the player scores within the ninety minutes.
Other Types of Goal Scorer Betting
There are several other elements to goal scorer betting offered by bookmakers, which you'll be able to see examples of below.
No goal scorer betting means you'll be hoping that either one or neither side will end up hitting the net within the 90 minutes. If the match goes to extra time or penalties, don't take it as a given – the market would specify that extra time counts in terms of the bet – but it usually doesn't.
Multiple Goalscorer Betting
All bookies will offer odds on players to score more than one goal, specifically giving odds to score a brace (two goals) or more, or a hat-trick within a match.
Hat-tricks are quite the rare occurrence and so pay out handsomely, where as two goals from an in form striker is a little easier to call – however you're depending on a large slice of luck for it to come in rather than knowledge.
Betfred perhaps offer the best multiple goal scorer betting incentive on the market, in the shape of their 'Double Delight/Hat-Trick Heaven' promotion. It's a great extension and reward to standard first goal scorer markets with other bookies, where if your pick scores first and then gets a second, your starting odds are doubled, and then trebled with a third goal.