Correct score markets in football are one of the biggest long shots punters can take. Luckily with the score going up by factors of one at a time it's a little easier to predict than a rugby or cricket score, but it's still a tough call nonetheless.
Odds for correct score betting are usually quite high but it's always worth a shot on the off chance and if one comes off for you, you can usually net a hefty reward. The possibilities are nigh on endless but if you're looking for a little added interest in a football match you're watching it gives you good reason to watch on with excitement.
The bets are quite easy to place, but very few, if any bookmakers have specified coupons for it.
An Example of Correct Score Betting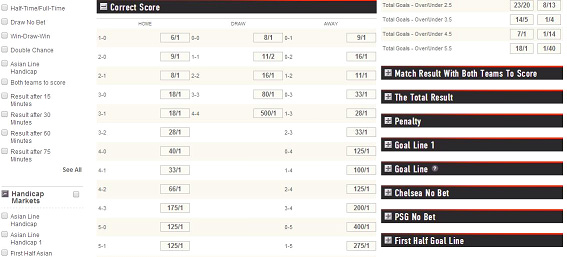 Different bookies will lay out their correct score bets in different ways, but Ladbrokes on the web tend to set out in table format that can be a little difficult to follow. Their correct score options are displayed next to an odds link, which just needs a click.
If you'd be looking to put any of these results into an accumulator you can, but just bear in mind you'll need time to jump from game to game. So throwing one of these on just before kick off may not be the easiest move.
Correct Score Group Betting

Certain bookies make it a little easier to get a correct score right by offering group betting on several outcomes, into one bet. While the odds decrease from having up to three correct selections on the line it can be pretty fruitful if you fancy a roundabout score, still offering a decent return.
Sky Bet does an overall better job of laying out your options than most.
Other Types of Correct Score Betting
While predicting the complete outcome of a game may be a little difficult, there are other ways of placing money on how teams will fare scoring wise for most of the top games.
Winning margin odds offer great value if you fancy a tight affair or a drubbing in one team's favour, with markets to cover you if you fancy either side to win by one, two or three goals. The markets are barely featured unless they are specials or red hot tips that a pundit has promoted, but you can find them usually in the full time score betting section.
Win to nil markets are also popular for punters who fancy a certain team's defensive capabilities, but you're always running the risk of the bet being ruined in a split second, and it's just not that fun. However, there are plenty of correct score denominations to choose from if that's your favourite game.