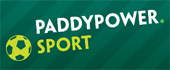 Ireland's biggest bookie Paddy Power is amongst the least competitive of the UK's bookmakers, but for what they lack in odds and value they try to compensate with some excellent humour. Their advertising campaigns and social media pages often make you burst out laughing and Paddy is a little bit out there with some special markets.
Of course humour is not what you want when you're trying make yourself some money, but they're worth a follow on Twitter nevertheless.
Sign Up
Their join up offer is 3x£10 free bets, and are not bad going from an initial drop of a tenner. It won't really get you too far but you don't have to play back through it to withdraw. But by no means is Paddy ahead in the sign up stakes – it's just merely competitive.
Unfortunately that's a theme that continues in other areas. Paddy Power doesn't really have any redeeming features that set them apart from the rest of the market.
Appearance
True to their roots, the overly green colour scheme in tribute to Ireland gives Paddy a unique sense of identity, but both the website and iPhone app are disappointing. Though easy to find your way around, the website does look a tad amateur, and you'd expect better from such a renowned bookmaker. Unless it's a purposeful ploy – you don't necessarily expect the site to look supremely professional but still expect better.
The mobile phone app has undergone some recent updates which have helped, but broken links and difficulty to navigate to coupons make it a nightmare to do something simple at times.
Promotions
Paddy Power doesn't offer anything particularly eye catching promotions wise, though they have now introduced the option to cash out on bets. They make a big fuss over their money back specials (MBS) which they put on a number of big matches to tempt you in, but it's not a big pull (personally, anyway).
My personal account has been empty for a long while as I prefer other bookies, but every now and then Paddy drop in a little surprise into your account in terms of a freebie. It is only a £2 freebie though and you can only use it on a single, nothing to impress you.
You can win an accumulator bonus with anything bigger than a treble, but for the amount they shout about it you'd think the offer would be more special than it actually is.
They do now offer Acca Insurance though, where you'll get your football stake back as a free bet if one leg of your 5+ fold Win-Draw-Win ACCA on UK and top European leagues lets you down. That though is fairly standard across the board.
Paddy Power perhaps offers the biggest range of Novelty bets out there, being able to bet on Politics, the EU and even the Pope! It's certainly an interesting twist from them but there's not a lot else to tempt you, so you're better off looking at other bookmakers if you're looking for sports promotions.
Odds
There's nothing to entice you here either, unfortunately. Paddy Power's odds are rather poor, and if you're looking at value on any market you won't find the best here. Visit any odds comparison sites and Paddy are always at the foot of the return stakes, and by some distance.
Support
Instant messaging, email and telephone services are however to a good standard, though there have been murmurs online about some trouble with taking your winnings out of your account. It's never been a problem personally, but be weary.
Social Network Presence
Finally, something Paddy Power does well! Well in touch with their client base, the Paddy Power Twitter page (@paddypower) is worth a follow, even if you're not looking for a bet. Credit to whoever is behind the feed, they've got some wit.
Paddy Power are unmatched in this sense, and despite not having a lot to sink your teeth into for value, they'd no doubt reel in customers with the network presence.
Overall
Everyone loves a bit of funny and Paddy Power deliver it with some cracking anecdotes and pictures on their social networking pages, and their Twitter should probably have more than the 530k followers. As a bookie they offer a huge range of novelty bets – which are actually quite interesting – but they don't give you the most competitive odds for the stuff that matters.