There are several different ways of placing bets on over or under markets with bookmakers in the United Kingdom. Punters can place their bets on whether a certain fixture will have above or below a set amount of goals, or that a single team will score above or below a certain amount within a designated 90 minute time period.
Perhaps the most common way in the football market is to bet on matches conjuring up under or over 2.5 goals in a fixture. It is often the go to number in the market, although some bookmakers offer the chance to bet on more or less than the 2.5 number dependent on the teams involved in the match, or at their discretion.
The standard number is 2.5 goals, so if you're backing there to be over that amount of goals in a match the minimum you are hoping for is three goals to be scored, with anything under that amount resulting in a loss. It works in reverse, as betting on under 2.5 goals would mean that a maximum of two goals could be scored in a fixture for the bet to win. Three goals or over would make the bet fail.
Of course, it is impossible to score 0.5 of a goal within a game, so the decimal is used to determine a definite outcome.
An Example of Over Under Betting
Some, not all, bookmakers offer specific easy pages to just select under or over 2.5 goals in near enough every game on the football calendar. The market is a mainstay regardless of what league you're betting on and the odds never tend to differ too much.
The below example from Sky Bet shows a host of English League One matches and the odds on the 2.5 goals market for each game.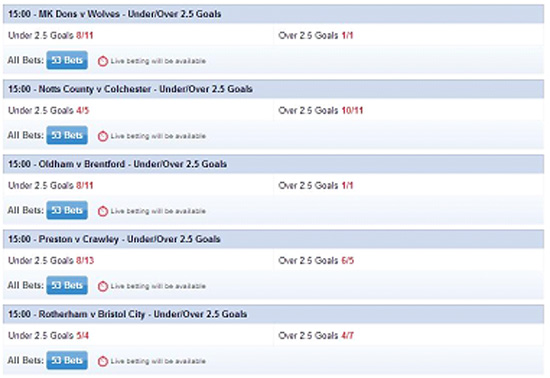 As you can see from the image, the odds tend not to stray too far from evens, (check the definition in our glossary) usually sitting either side of the neutral unless one game features a strong favourite. It is only usually then that odds shorten because of the potency of a top league attack and the weakness of the defence in front of it, such as the game featuring Rotherham (4th place at the time) and Bristol City (13th) above.
To find higher or lower number of total goals markets, you would usually have to dig deeper into a specific match's markets to find other options, such as the example below which shows the odds for a fixture between Reading and Huddersfield Town.

As evidenced, the premise is the same, but the options given for under/over 1.5, 3.5 and 4.5 total match goals have massively differing odds because of the likelihood of there being a high or low amount of goals.
Another way of looking at the market if it becomes easier to understand is that (with 3.5 goals as an example) you are betting on 3 goals or under at odds of 1/3 and 4 goals or over at 9/4, bearing in mind that the half goal is used to avoid confusion when the bet is determined.
Team Goals
You may also find the under/over goals markets featured for individual teams during a match, though this can actually appear in many different ways dependent on the bookmaker you are using.
Often seen as total team goals, the bets are often displayed with for example; 'Reading to score exactly 3 goals' to specify the exact amount of goals scored by a team during a match. Sky Bet for instance tend not to offer an under/over option for specific teams.