In Play betting is the newest and fastest growing type of betting in the market today. Having grown in popularity along a similar line to online and mobile betting, In Play allows bettors to make bets on a sports event after a match has started and while the match is in progress.
The great thing about In Play and the reason for its huge growth in popularity is the power it gives the punter to react to what is happening in the specified game. Odds will consistently fluctuate dictated by the pattern of the match and there are a huge range of markets to choose from, all of which are available for most of the time the fixture is in progress, up until the final minutes.
The range of markets available vary from sport to sport, as the standard win markets are available along with markets (specific to football) such as number of cards, number of corners, result at certain times in the match and next goal scorer.
Typically most bookmakers will allow punters to watch the match in question by offering a free live stream if they place a stake on the match while it's happening.
An Example of In Play Betting
Betway says they are 'all about the In Play,' and it's hard to disagree. They offer a variety of markets in play on a huge number of matches both domestically and across the world. The below screen grab is a snippet of the offers and markets the leading In Play bookie offers from a tennis match between Martin Cuevas / Mateo Martinez – Gabriel Villanueva / Gonzalo Villanueva.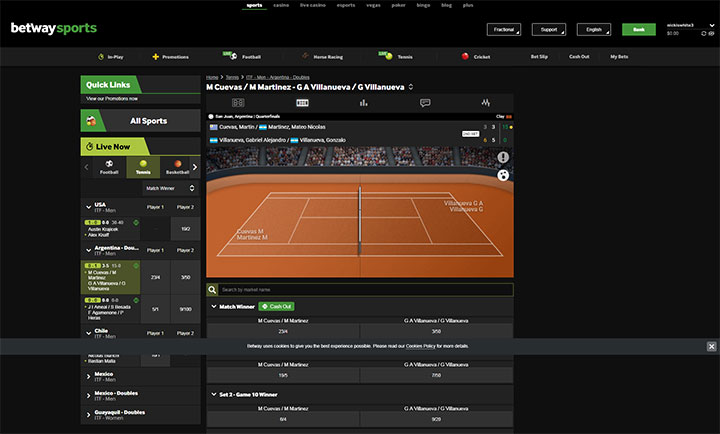 Obviously some sports are better suited to this type of betting than others; football being one of the leading sports in terms of In Play betting popularity. As mentioned, odds fluctuate throughout the entire fixture dependent on the pattern of play and the amount of time left, and any markets chosen are always subject to a short delay.
Popular In Play Markets
Most of the available pre game markets are available for a certain amount of time in play, with some added extras. Bettors can be far more specific as particular markets crop up allowing punters to bet on something happening before or after a certain time, such as first goal to be scored before (as an example) 40 minutes, or the total number of goals or corners to occur in the fixture. Betway also offers the chance to bet on how many goals or corners are scored in a certain period of time just to add an extra bit of excitement to that stage of the match.
Several pre match markets will remain open until the closing stages of the featured match, so the opportunity to bet in play is there for a large amount of time.
The final market to usually close is the full time result market and it can be a huge opportunity if time is running out in a fixture and a punter fancies another goal to go in, as the odds will usually swing majorly out of favour of the losing side in a match purely because of the remaining time. If you have a hunch, it's an excellent way to make money if you're correct.
Cashing Out
A number of bookies have introduced the cash out option on accumulators to allow punters to take a fraction of their winnings from their bet and close the bet before the final match finishes.
This can be extremely handy as bookmakers offer an out to punters to take winnings even when one of the teams in their accumulator is not winning. Cash out will continue to grow in the coming months, and it is only a matter of time before all online bookmakers offer the option.